How to Draw a Pig for Kids
Learn how to draw a pig for kids step by step with this elementary drawing tutorial for schoolers and preschoolers.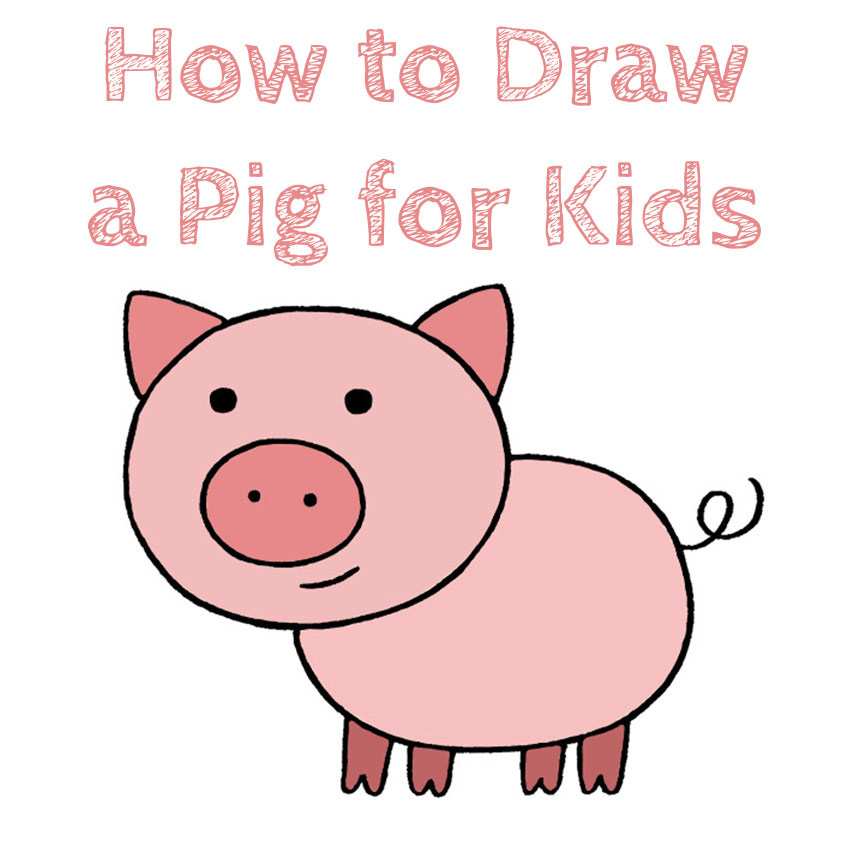 Hello everyone! In this drawing lesson, we will teach you how to draw a pig for kids step by step. On our site, there is already a pig drawing lesson, but in a more complex version. After you draw a light pig, you can move on to more complex work.
Let's get to know our character a little. Such a pink and cute creature is familiar to absolutely everyone. Usually, pigs can be found on farms. And you can often see how pigs get along well with chickens. They have a rather interesting appearance: a large round penny, small eyes and a rounded tail. Pigs make rather unusual intermittent sounds, which are called grunts. Pigs are very smart and clean animals, and if they are lying in a puddle, it is only because there is no other suitable reservoir nearby to wash.
Basically, the pig has a rounded body shape and there are quite a few additional elements in the external appearance. Everyone can draw a pig. Step-by-step instructions will help you not to get confused and make this drawing as high quality as possible. It is best to work on a drawing with a pencil. And after that, when the sketch is ready, you can color in the pig's drawing with bright pencils or felt-tip pens.
Thanks to our tutorials, you will accurately draw a pig with a pencil step by step. Our lessons are simple so they are suitable for beginners. All you need is paper and a pencil.
Time needed: 20 minutes.
How to Draw a Pig for Kids
Draw the outline of the pig's head.

Start by drawing a large circle for the pig's head.


Draw the ears.

Draw two ears on top of the pig's head. Ears should be made opposite each other with sharp ends.


Draw the nose.

Draw a large oval in the middle of the head to indicate the large penny of the pig.


Draw additional elements on the head.

On the penny itself, mark the nostrils; for this, draw two small dots. Below, draw a small line for the pig's mouth. Don't forget to draw two small circles for the eyes.


Draw the torso.

Draw a large oval straight from the head of the pig to represent the body. Draw a small curl on the back of the body for the pig's tail.


Draw four legs.

At the bottom, draw the four small legs of the pig. The end of each foot should be slightly sharpened to indicate the hooves characteristic of pigs.


Color in the drawing of the pig.

The characteristic color for pigs is a pale pink color. The hooves, ears and nose will be darker in color.

That's it! The drawing of the pink pig is ready! We hope this tutorial was useful and interesting for you. Keep developing your skills and learn to draw more and more shapes and elements based on our instructions. Check out our other instructions for kids as well and draw other things. We wish you every success!