In this step-by-step drawing tutorial, you will learn how to draw a hen. This is a drawing guide for beginners and kids.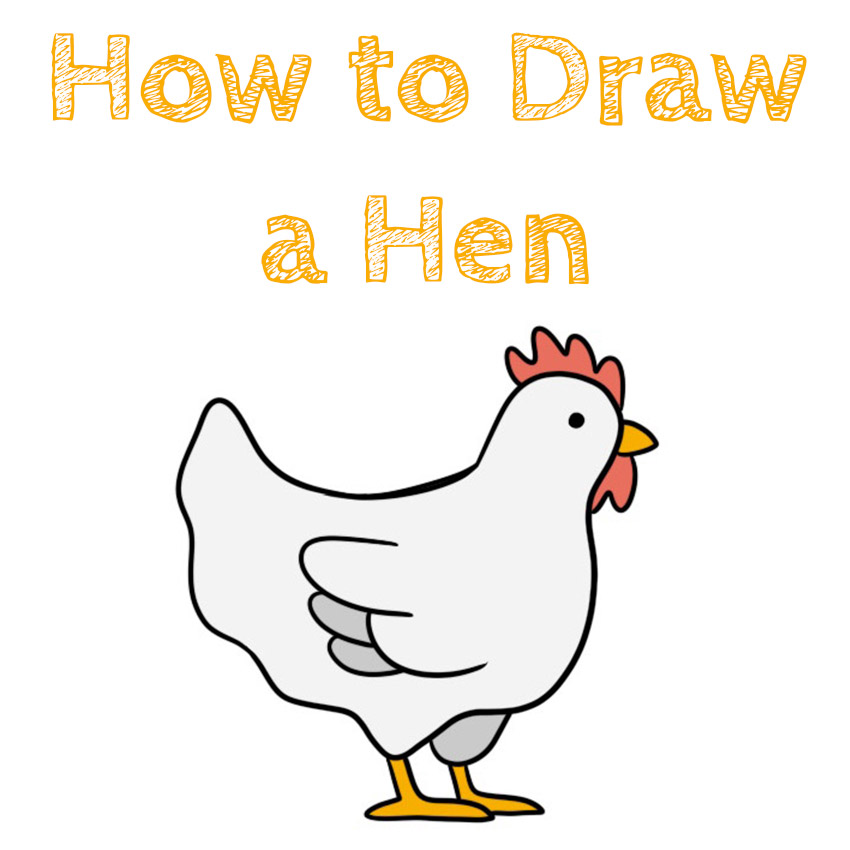 In this guide, we will analyze a simple option for how to draw a hen, which all novice artists will master. The hen drawing is quite simple to perform since there are many variations of this drawing – from the most complex to the easiest.
It only takes six easy steps to get a beautiful chicken drawing. In this guide, young artists will learn how to make more complex lines and develop their spatial thinking. For full concentration, we advise you to follow all the steps in the instructions below.
Enjoy your drawing, friends!
Time needed: 20 minutes.
How to Draw a Hen
Draw the outline of the body and head of the chicken.

At this stage, the main thing is to pay attention to the back of the animal, the lines should be wavy, but not sharp.

Draw the outline of the eyes and wings;

The contour of the wings consists of three elements, they must be proportional to the whole body. The eye can be distinguished with just one point.

Draw the chicken's beak, scallop and leg outline;

The scallop consists of four divisions that do not overlap. The outline of the left leg should be the same as the right leg.

Draw the chicken legs;

They will stand on two sides. It is desirable to make them symmetrical.

Tracing.

Remove unnecessary contours and select the whole picture with a darker color. You need to trace the drawing with a black marker or ink.

Color in the chicken drawing.

If you want a classic version, then choose our coloring. Otherwise, color as you like. That is, you can experiment with colors and color the finished hen sketch in the color that you like best.
Few facts about this common bird:
The rooster is the national bird in France and Kenya, hens are birds, but unlike most other birds, they cannot fly, hens are most often depicted on various coins around the world.
Also on howtodraweasy.net, you will find many other birds that you can draw and learn to draw! We are waiting for you again!