If you want to sketch a Mother's Day Drawing card, here you can see the idea of the cute drawing. Draw a beautiful greeting card for your beloved mom on Mother's Day!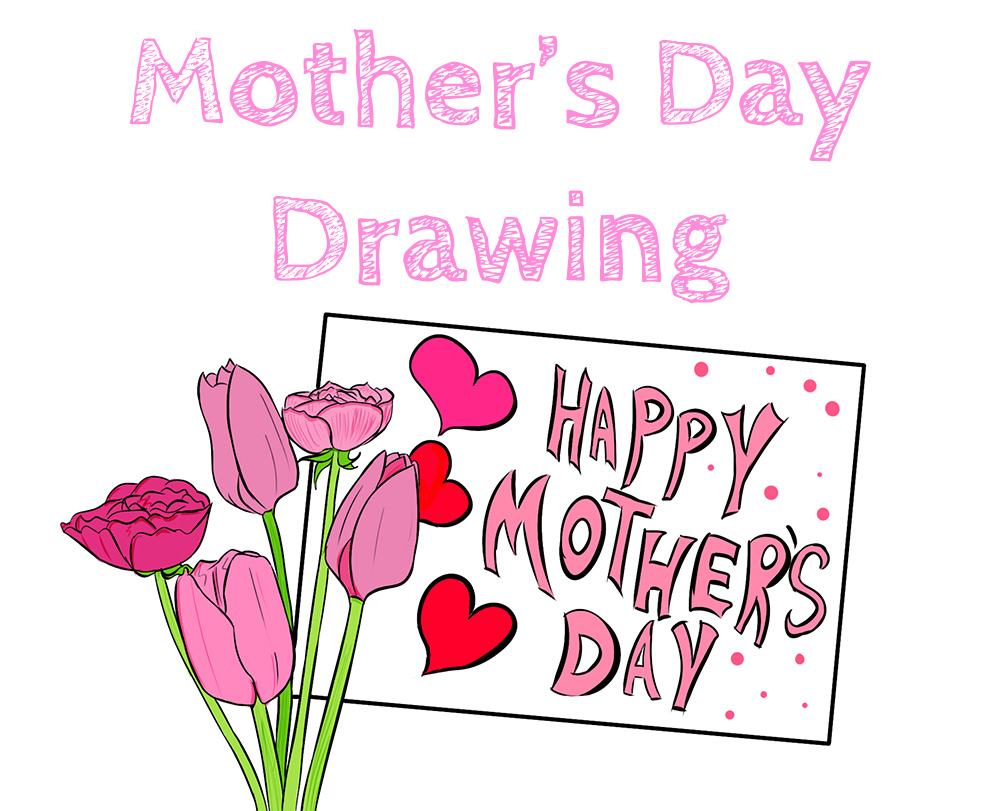 Mother's Day Drawing is for everyone who wants to create a beautiful card for this holiday. This idea will help you paint a pretty picture with cute flowers and a card "Happy Mother's Day". We hope this tutorial will help dads and kids create great artwork that will bring happiness to moms and grandmothers!
In this drawing, you see three tulips and two peonies, as well as hearts and a cute holiday inscription. If you want to add something else to the drawing, then add what you want. For example, you can also add roses to your sketch or other flowers.
Time needed: 30 minutes.
Mother's Day Drawing
Draw the stem.

Start sketching from the stem of the first tulip. You need to draw two lines that are slightly slanted.

Draw the petals.

Draw the bottom of the tulip petals, continuing the line you originally drew for the stem.

Tulip petals.

Draw the first part of the tulip petals.

Draw the entire tulip.

Draw all the tulip petals to the end.

Draw a second stem.

Draw the stem of the peony.

Draw a sepal.

Now draw the sepal of the peony.

Peony petals.

Draw the peony petals that are on the outside of the flower.

Peony petals.

Draw all the petals of the peony that is on the flower. And also draw the stem of the third flower.

Draw a tulip.

Draw the bud of the second tulip, you can do this following the example of drawing the first tulip.

Two more flowers.

Draw two more flowers in your sketch, you can see an example in this step.

Draw paper.

Draw a rectangular piece of paper on which you write the greeting phrase you want.

"Happy Mother's Day".

Write a congratulatory inscription following the example from this step, but if you have a different idea, then write the phrase that you like, for example, "I Love You, Mom!".

Draw the hearts.

On Mother's Day, hearts are often drawn, which symbolizes love for the mom.

Trace your sketch.

Take a black marker or fountain pen with ink and trace all the outlines of your sketch.

Color the drawing.

Now color your drawing, you can take the colors that we used in our drawing as an example, but you can also use other colors.