Learn how to draw Peppa Pig for kids step by step with this elementary drawing tutorial for beginners, schoolers, and preschoolers.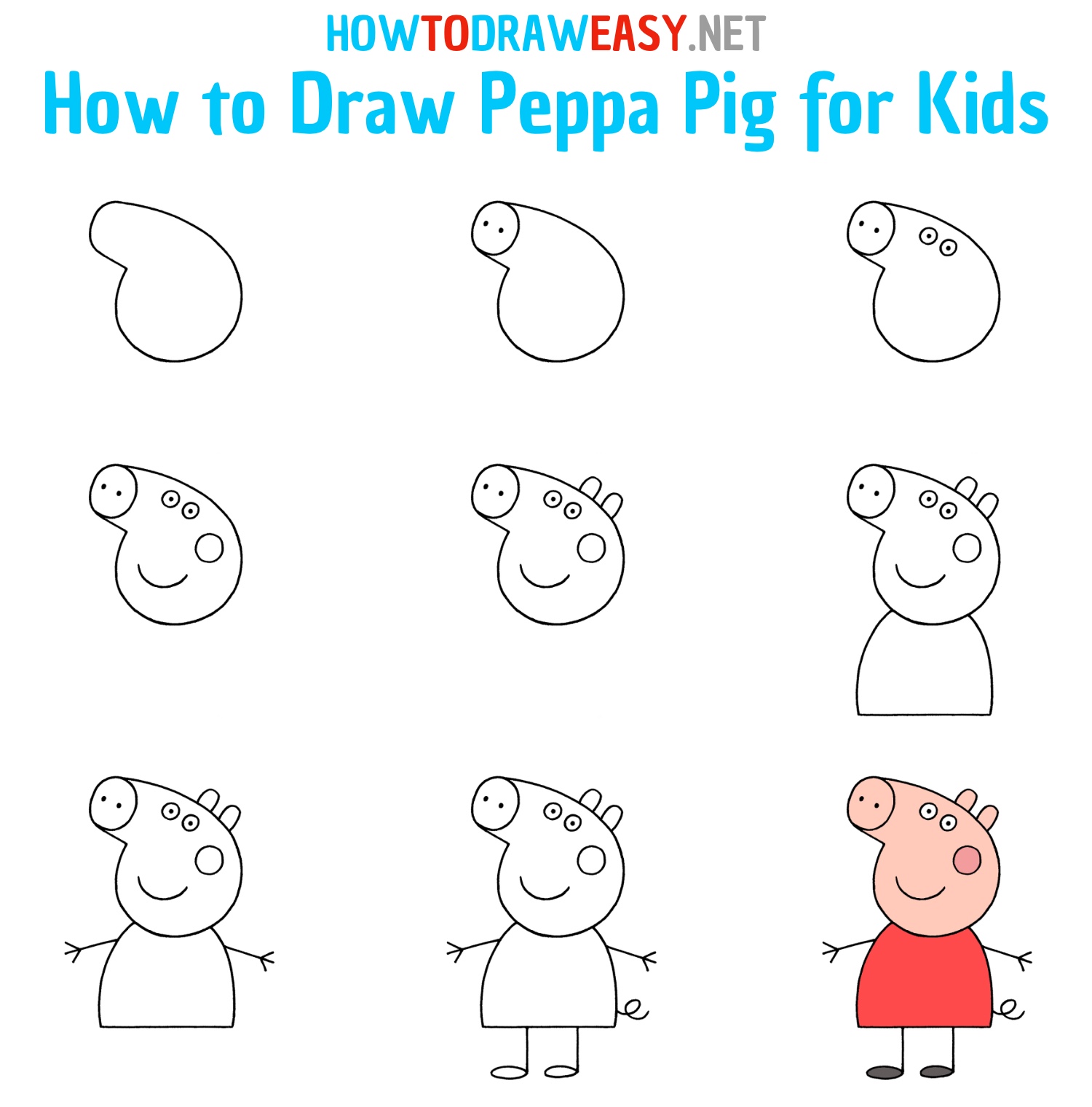 In this simple sketching instruction, you will learn how to draw Peppa Pig for kids. Peppa Pig is a character in a fairly famous animated TV series. This is a very cute little pig who lives with her family. She has many favorite things to do. Each of her adventures always ends well and happily.
Outwardly, Peppa resembles an ordinary pig, but with some elements that distinguish her from many characters from various cartoons. Drawing this funny character will not be at all difficult for beginners and kids of school and kindergarten age. You must follow all the steps to get a cooler Peppa artwork.
Time needed: 25 minutes.
How to Draw Peppa Pig
Draw the shape of the head.

Begin by drawing a rounded head and an elongated snout for the pig.

Sketch the nose.

Now shape the Pig's nostrils by adding a circle and two nostrils.

Add the pig's eyes.

Draw the eyes at the very top of the Pig's head. To do this, draw two circles, inside which are small circles for the pupils.

Draw a cheek.

On Peppa's face, draw a circle, which is on the cheek of this character in cartoons.

Draw the ears.

On the head of the pig, draw two small ovals of ears that are close together.

Draw the dress of the pig.

Sketch two curved lines extending from the head of the Peppa Pig. Connect them below with one straight line as shown.

Draw the arms.

Now draw Peppa's simple arms, which you need to add on both sides of the body as in the example.

Draw the tail and legs.

Under the body, start drawing the hind legs of the pig. To do this, draw out two parallel lines, and at the end draw Peppa's shoes as shown. Also, sketch a curled little tail.

Color Peppa Pig.

Color Peppa in typical colors. Color the head in piglet pink, and the circle on the cheek red. Color the garment in red or pink. Also, before coloring, you can trace the contours of the sketch using a marker or ink.
Excellent! We hope that we helped you create a cool artwork of Peppa that you can share with your friends. And you can also share this simple instruction with your friends on social networks, and we advise you to sketch this cartoon with friends together! Thank you for being with us, and we will be glad to see you again.