How to Draw a Whale for Kids
Learn how to draw a whale for kids step by step with this elementary drawing tutorial for schoolers and preschoolers.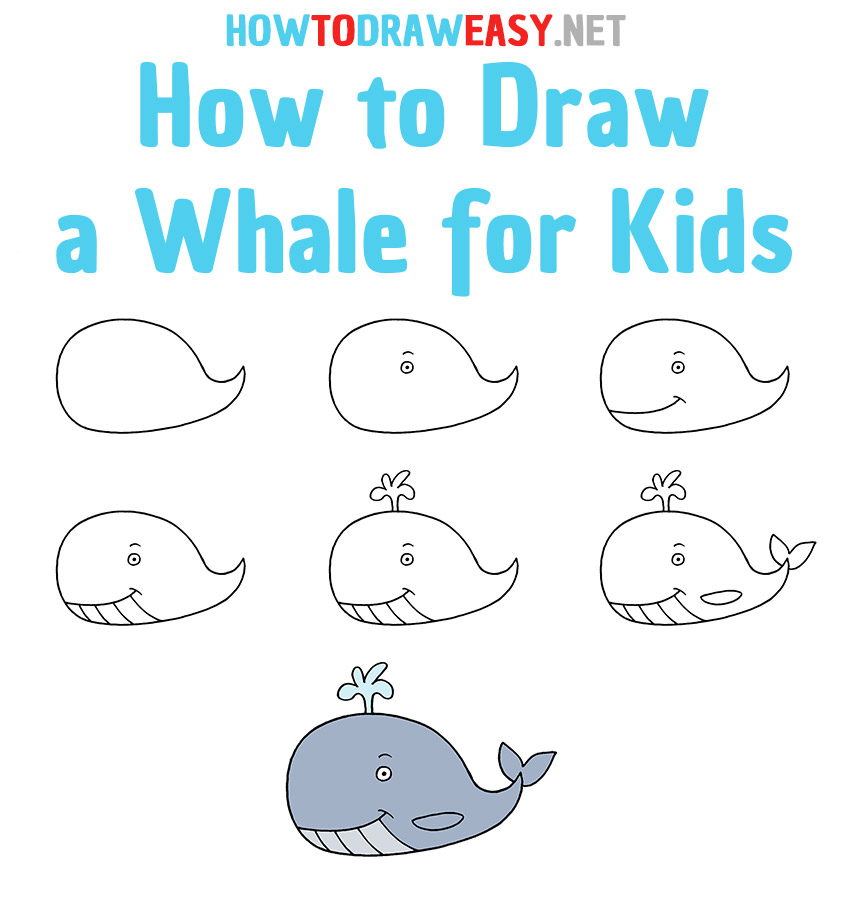 Hello and welcome to the best drawing site ever! In this lesson, you can learn how to draw a whale for kids step by step. In sketching a cartoon whale, there are no particularly difficult and small details in the whole appearance. You can draw a whale very quickly and easily. Thanks to our step-by-step instructions, you will be able to portray this cute sea creature perfectly.
Whales are marine mammals of the cetacean genus. They do not belong to dolphins or any other marine life. Whales are often very large. There are many orders and species of whales, each of which is unique and attractive in its own way. Enjoy drawing the cute whale!
Time needed: 20 minutes.
How to Draw a Whale for Kids
Draw the outline of the whale.

To depict the shape of a whale, first, draw a large semicircle, and on the right side a small curved tail.


Draw the eye.

Draw a small circle in the middle of the drawn shape, inside which put a bold dot for the pupil. Draw a small line at the top for the brow.

Draw a smile.

At the bottom of the whale's head, sketch a small, curved line.


Draw the bottom of the whale.

The lower part has a slightly unusual shape. Draw several vertical lines that extend from the line of the whale's mouth.


Draw a fountain.

Draw a fountain at the top, which is formed due to the fact that the whale releases water. Refer to the instructions provided for sketching a stream of water.


Draw the tail.

To do this, draw two ovals with sharp ends. Try to portray it as shown in the instructions.


Color the drawing.

The typical color of the animal is blue or gray. Color the whale blue and make the belly blue. The eye should be left white, and the fountain should be made light blue.