Learn how to draw a rhino for kids step by step with this elementary drawing tutorial for schoolers and preschoolers.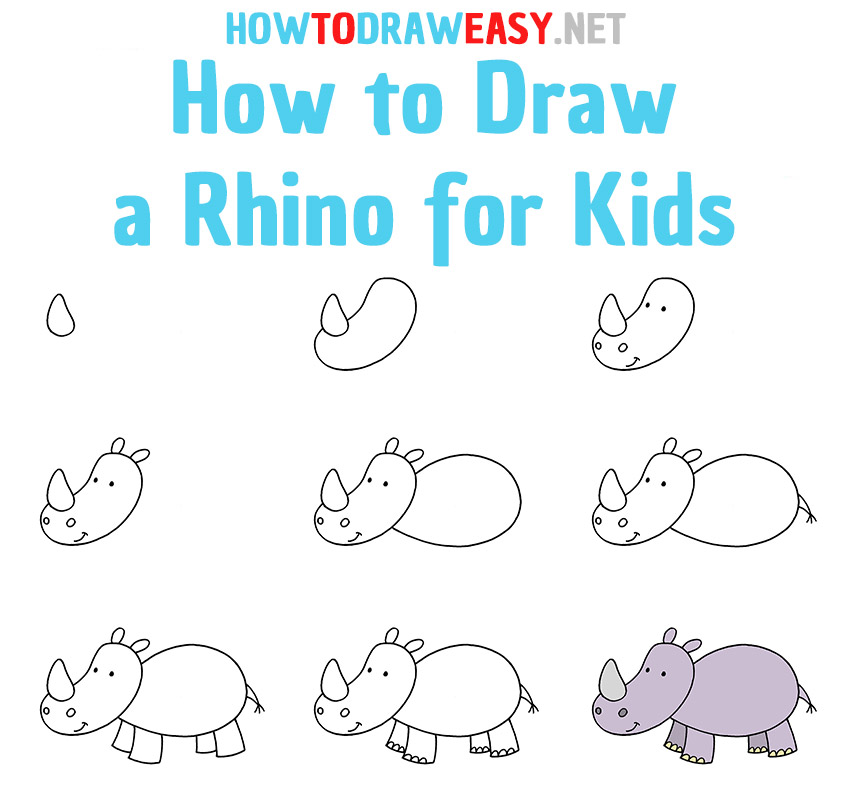 Hello everybody! In this drawing tutorial, you will learn how to draw a rhino for kids step by step. The rhino drawing lesson is ideal for children of all drawing levels, as simple geometric shapes will be used in the drawing process.
Rhinos are one of the most famous animals in Africa, along with the lion and giraffe.
This is a very powerful and large animal, which distinguishes the great horn from other inhabitants of Africa. We tried to make the step-by-step instructions as simple and understandable as possible so that the drawing process was interesting and informative. The main thing is not to rush and follow our advice and you will definitely be able to draw a rhino.
Time needed: 25 minutes.
How to Draw a Rhino for Kids
Draw a horn.

Let's start with the most remarkable detail of the rhinoceros – the horns. Draw it in a tapering drop shape.

Draw the head.

Draw the head of the rhinoceros in the form of an oblong oval, slightly tapering in the middle. The horn should be on the edge of the head.


Draw the face.

Draw the eyes as two small dots. Draw two small circles for the nostrils under the horn. Draw a smile under your nostrils.


Add ears.

Draw two small ears on top. They should be oval.


Draw the body.

Next, you need to depict the body of the rhinoceros in the form of a large oval.


Add a tail.

Draw a small tail on the right side of the body.


Draw the legs.

Draw 4 large rhino legs that are rectangular in shape.


Finish the legs.

Draw 3 small claws on each leg.


Color your drawing.
We hope that this was a useful and informative lesson for you. Be sure to show your new drawing to friends and family. We also recommend that you familiarize yourself with other drawing lessons for kids.