How to Draw a Frog for Kids
Learn how to draw a frog for kids step by step with this elementary drawing tutorial for schoolers and preschoolers.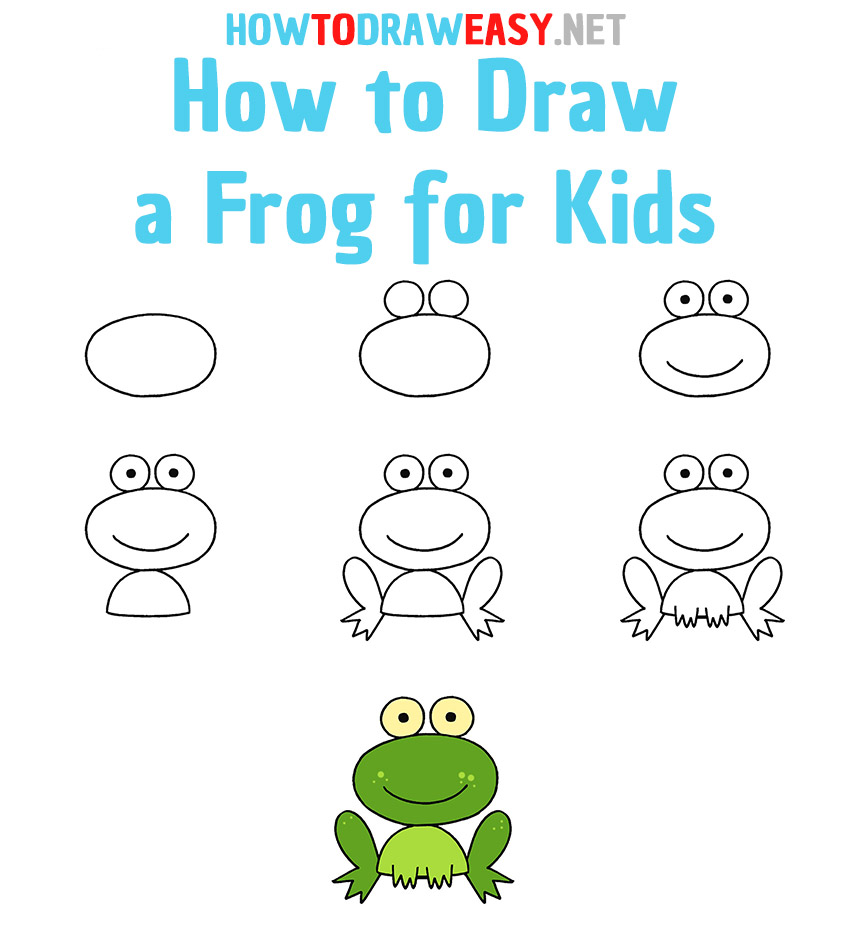 Hello everybody! In this drawing tutorial, you will learn how to draw a frog for kids easily. Our lesson will help you depict a frog at a level that is understandable and simple for a child since the simplest geometric shapes will be used in the drawing process.
The frog is an amphibian from the order of tailless that grew out of tadpoles. It is a small animal, predominantly green in color, with large eyes, long legs. Due to the special shape of the body, the frog can jump long distances. We decided to depict a sitting frog, sitting with crossed arms. You can also try another equally popular Kermit frog. But now we will learn how to draw a cartoon frog.
Time needed: 20 minutes.
How to Draw a Frog for Kids
Draw the frog's head.

The first step is to draw the frog's head in the form of a large horizontal oval.


Add eyes.

At the top of the head, draw 2 round eyes.


Finish the eyes and draw the mouth.

Next, you need to depict the pupils in the form of black dots, as well as a smile.


Draw the body.

Draw a small semicircle under the head and connect the bottom with a straight line. This will create the frog's torso.


Draw two back legs.

Draw 2 large back legs on the sides of the body as shown in the instructions.


Draw the two arms.

At the bottom of the torso, draw two small handles.


Color your frog.

The frog needs to be painted in its natural color – green. Color the main body of the frog in dark green, and the belly and arms in light green. Paint the eyes with light yellow.

We hope that this was a useful and informative lesson for you. Be sure to show your new drawing to friends and family. We also recommend that you familiarize yourself with other drawing lessons for kids. Bye-bye!