How to Draw a Dragon for Kids
Learn how to draw a dragon for kids step by step with this elementary drawing tutorial for beginners, schoolers, and preschoolers.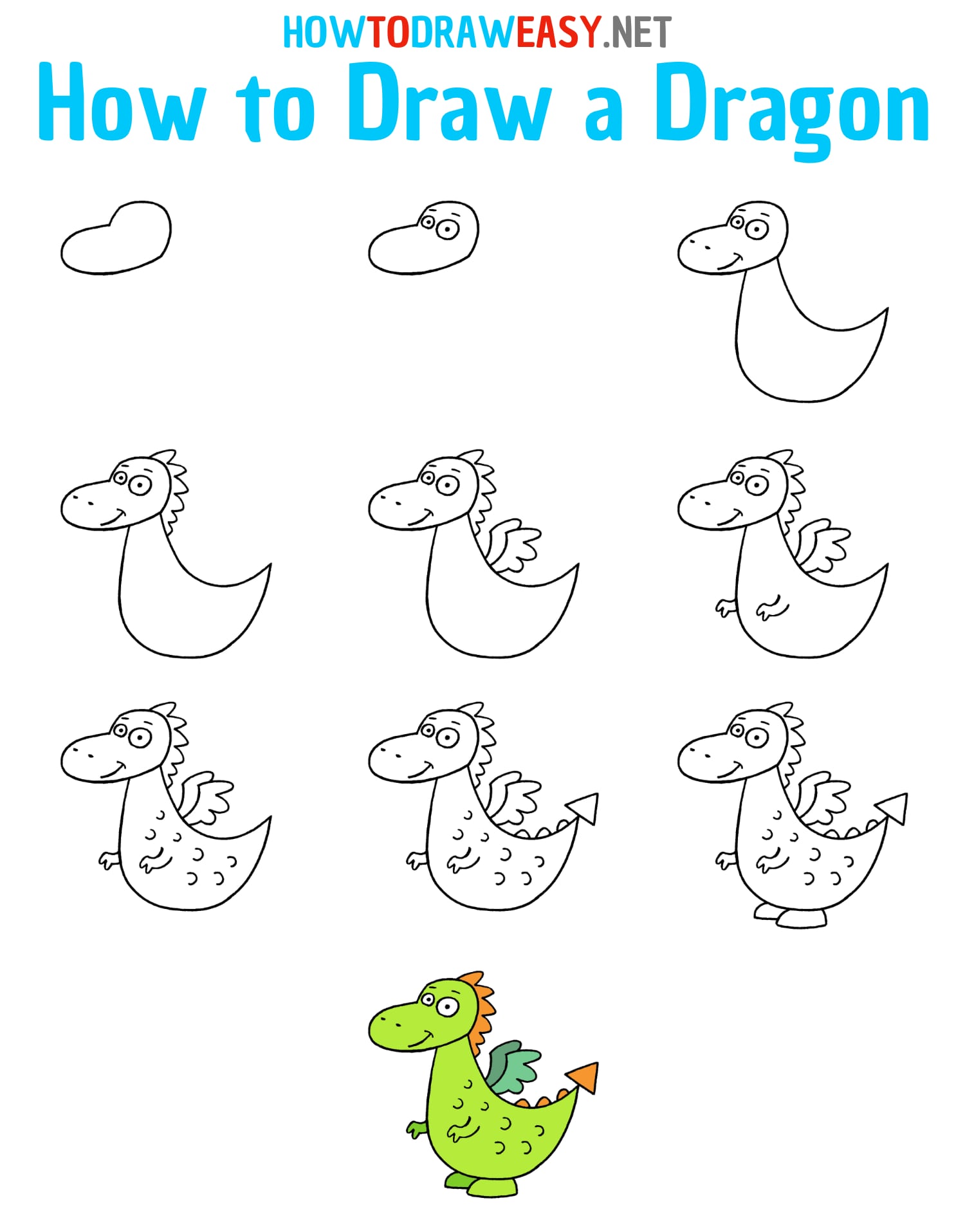 In this elementary, step-by-step drawing lesson, you will learn how to draw a dragon for kids. The dragon is a mythological and fantastic creature that has existed in the myths of various cultures since the early Middle Ages. This monster is rather large, with large wings and a tail. And also one of the main abilities of dragons is the ability to release fire from their mouths! Dragons come in a variety of shapes, sizes, and colors. You can try drawing a dragon according to another step-by-step guide that is available on the site!
We have depicted this unusual winged creature in a simple cartoon version and anyone can draw this dragon in this style, with absolutely any drawing skills. Follow all the steps and guidelines for a cooler cute dragon sketch.
We hope you can quickly and easily draw this cute dragon! Enjoy drawing!
Time needed: 35 minutes.
How to Draw a Dragon for Kids
Head shape.

Begin by drawing with the outline of the dragon's head and snout.

Shape the eyes and brows.

Add the eyes and small eyebrows of the cute dragon to the drawing.

Face and body.

On the dragon's snout, draw nostrils and a smile, which is drawn using a curved line. After that, draw the dragon's body with curved lines that connect in a sharpened dragon's tail.

Draw the spikes on the head.

Draw spikes on the head and neck of the dragon as shown.

Draw the wings.

Draw small cartoon wings on the back of the dragon.

Draw hands.

Draw two small dragon hands as shown in the example.

Draw the scales.

Dragons are reptiles but from the world of mythology and fantasy. And like ordinary reptiles, the dragon also has scales on its body, which you need to draw as in the example.

Details of the dragon's tail.

On the dragon's tail, draw spikes like on the neck and back, and also draw a pointed, triangular dragon's tail.

Draw the hind legs.

Dragons fly great, but they also walk and run very fast. Draw the dragon's legs as shown!

Color the dragon.

Color your dragon drawing in the appropriate color, but painting the dragon does not have to be green! You can color the dragon in red or orange, for example.
Done, the dragon is drawn. We hope that this tutorial was useful and interesting for you, and you enjoyed the process of sketching. Share the lesson and your artwork with your friends, and also try to portray this cartoon dragon with your friends!
Check out our other sketching guides as well and draw many more compositions. We will always be glad to see you!