Learn how to draw a bear for kids step by step with this elementary drawing tutorial for schoolers and preschoolers.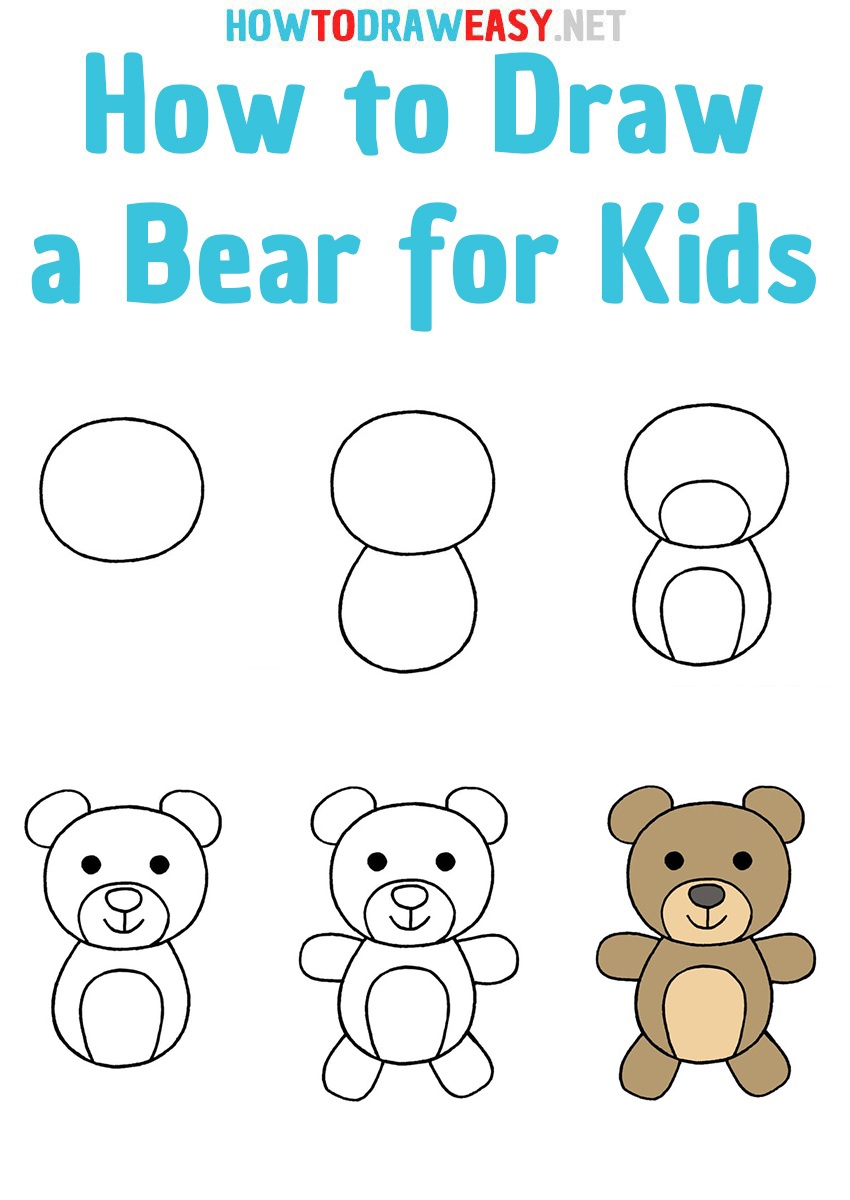 Hi guys! The artists of the howtodraweasy.net team have prepared for you a simple lesson on how to draw a bear for kids step by step. In this bear drawing guide, we tried to make all the elements as simple and understandable as possible for artists of all levels. Therefore, even young artists can easily draw a bear, the main thing is to follow our recommendations and steps.
The bear belongs to the genus of carnivorous mammals. Bears can reach 3 meters in height and weigh up to 800kg. Despite their large size, bears are good at swimming, running fast, and even swimming. Most bears live in Eurasia, North and South America. Bears are almost omnivorous, they feed on berries to fish.
Let's move on to the bear drawing tutorial now. Prepare your favorite pencils, a piece of paper, and your desire to draw, we are here!
Time needed: 15 minutes.
How to Draw a Bear for Kids
Draw a bear head.

Draw a circle in the middle of the sheet – this will be the outline of the bear's head. Draw slowly, do not shake your hand, so that you get a beautiful head.


Draw the torso.

To attach the legs, we first need to draw the torso of our clubfoot. To do this, we need to draw an oval-shaped torso at the bottom of the head.


Draw a pattern on the face and belly.

It is necessary to make a blank for the mouth, so draw a semicircle at the bottom of the head.
Now we need to draw a belly for the bear. Draw a similar semicircle, but more elongated.


Draw the ears, eyes, nose and mouth.

First, draw the ears. To do this, draw two small ovals at the top, on the sides.
Then we make eyes. In the middle of the face, not far from each other, draw black small circles.
Now we need to draw how our animal will breathe and eat. Draw an oval nose in the pattern we drew in the previous step (3). Draw a vertical line down from the nose and draw the smile in an arc.


Draw the paws.

Our pet is missing something. Yeah, he has no legs – let's draw them. Draw two ovals on the sides of the body – two small legs. Then draw the same at the bottom of the torso.


Color the bear.

To complete the process of drawing a bear, you need to decorate it. Use a light brown pencil for the belly and mouth, and a dark gray for the nose. Paint over the rest brown.

This concludes our lesson on how to draw a bear for beginners. If you like it, you can share your drawing of a bear on social networks for everyone to admire.
You can also check out our other drawing tutorials. All the best!