How to Draw a Fish for Kids
Learn how to draw a fish for kids step by step with this elementary drawing tutorial for schoolers and preschoolers.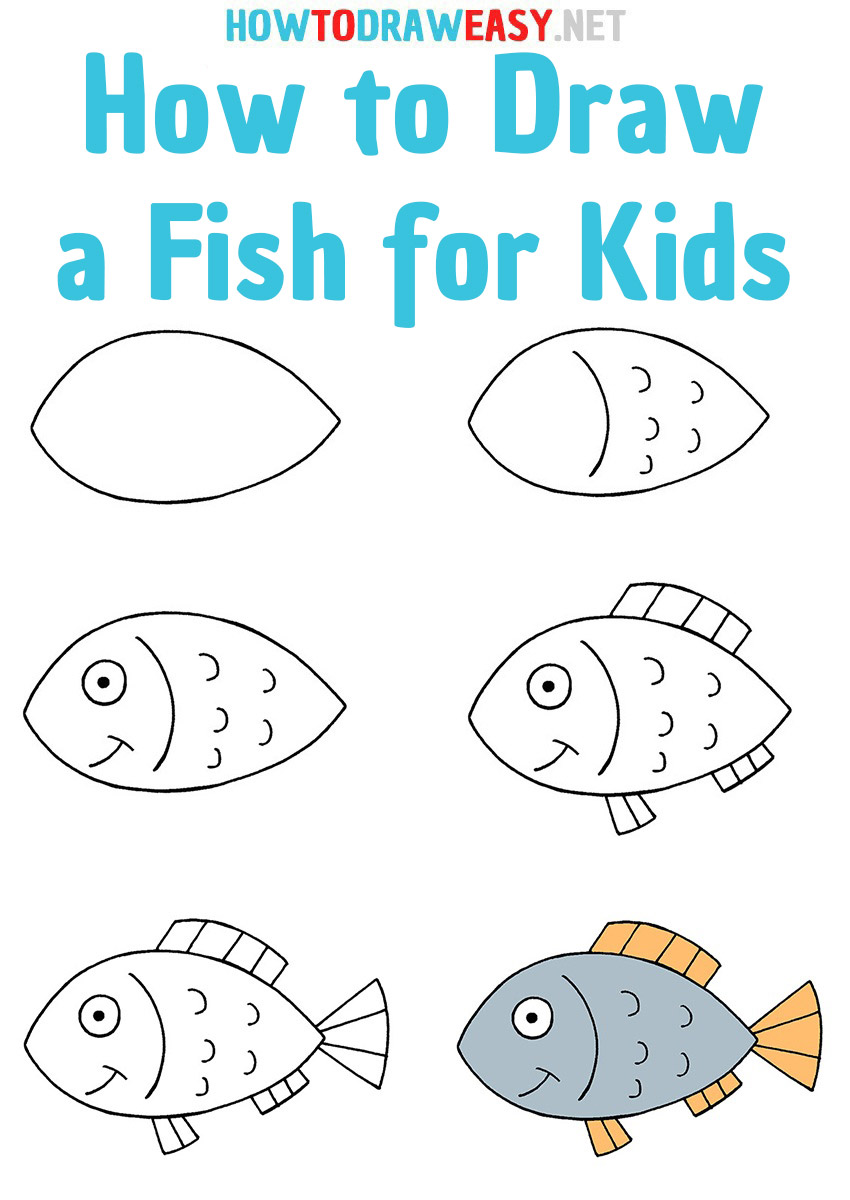 Hello kids! Our art team has prepared for you a simple tutorial on how to draw a fish for kids step by step. We tried to make the fish drawing guide so elementary that even a young artist with any level of knowledge can handle it, the main thing is to have a desire.
Let's get to know our character a little. Fish belongs to aquatic vertebrates. Fish live in both salty and freshwater bodies – from deep oceanic depressions to mountain streams. There are more than 35,000 species of fish known worldwide, ranging in size from 7mm to 20 meters. Wow!
Have you learned anything new about fish? Now let's move on to drawing a fish lesson. In this fish drawing tutorial, the main thing is to follow the steps and follow our recommendations and you will succeed.
Now let's draw a fish on paper, for this, we need some drawing supplies:
Pencil;
Black marker or ink;
Colored markers, crayon, or felt-tip pens, colored pencils;
Drawing paper (or devices, art apps).
Time needed: 15 minutes.
How to Draw a Fish for Kids
Draw the outline of the fish.

The body of the fish is oval in shape. Sharpen the corners around the edges.


Draw the eye, mouth and scales.

Our fish needs an eye and a mouth. Let's draw a circle with a black dot in it. The eye is ready. Now draw a small arc at the bottom of the eye, and a dash on top of it. This will be the mouth.
To give our fish something to breathe, we draw gills for it. To do this, draw a vertical arc in the middle of the body. Next, we draw scales for her, it's not difficult. We just draw semicircles one after another, to the right of the gill.


Draw the fins.

In order for our fish to move, they need fins. She has two types of them: dorsal and abdominal. Let's start, at the top draw a tilted rectangle along the body line. And there are three vertical lines in it, with a small interval. This will be the dorsal fin. And the abdominal ones will be located below. To do this, draw the same rectangles. One under the gills and the other closer to the tail.


Draw the tail.

We just have to draw the tail of our fish. With the help of it, she will be able to swim and turn in different directions. You need to draw a triangle at the very end of the body. And there are two horizontal lines in it. The tail is ready.


Color in the drawing.

Color in the drawing of the fish. We used gray for the body and orange for the fins. You can choose the same colors or dream up and come up with something different.

What are you fellows! Did you like drawing a fish? We are sure that yes, because what could be more fun than drawing. You can share our work with your friends on social networks.
And you can also check out our other drawing tutorials. All the best!