Learn how to draw Thor for kids step by step with this elementary drawing tutorial for beginners, schoolers, and preschoolers.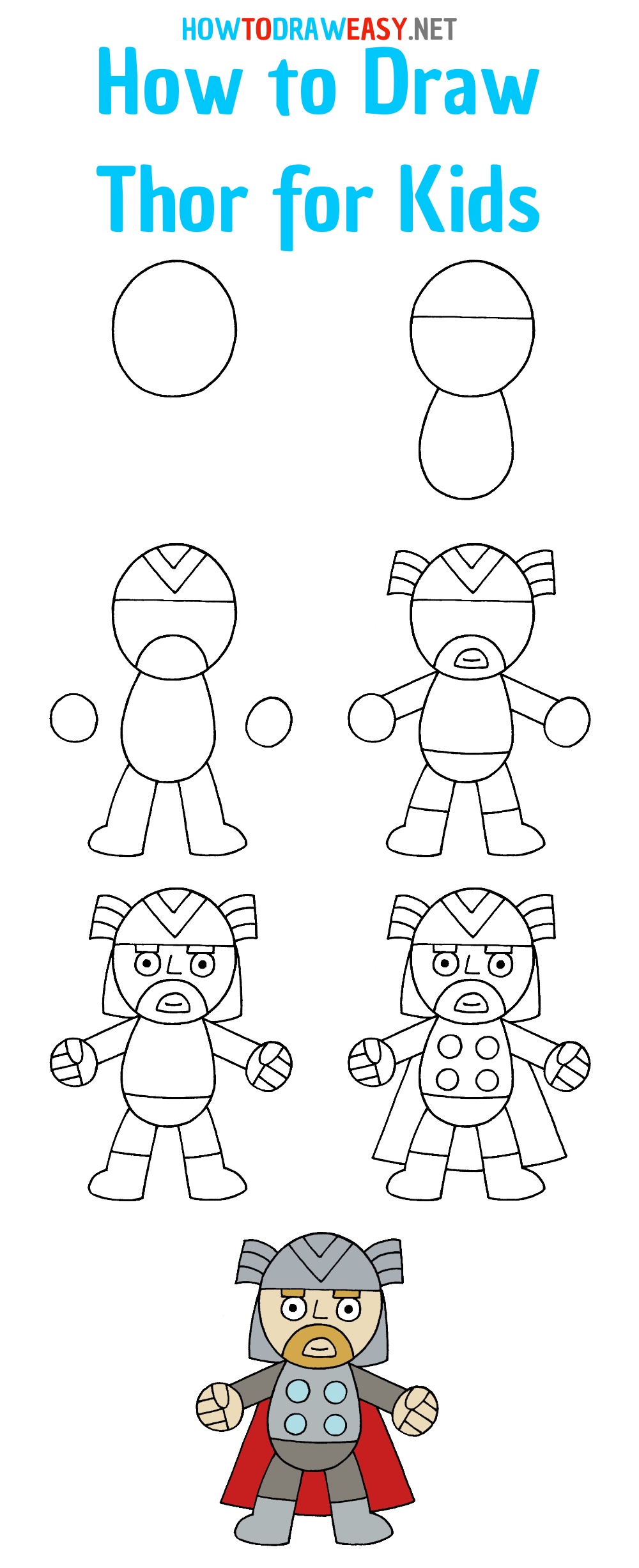 You are in the drawing guide of the God of Thunder, in which you will learn how to draw Thor for kids! Thor is one of the main characters in the Marvel Universe, as well as in the Avengers team. Thor came from a royal family that ruled Asgard for many years until he came to planet Earth, where he joined the team of the Avengers and began to defend the earth from supervillains together with them.
Novice artists will be able to draw this drawing without any problems since the object is in a static state and without difficult-to-draw details. For better concentration in drawing, we advise you to follow all the points of the guide in order to achieve the best result.
Thor first appeared on the pages of comics in August 1962. It was invented by the well-known author of most of the Marvel heroes Stan Lee and the amazing artist Jack Kirby. Thor is the Scandinavian God of Thunder. It follows from this that he can control lightning. In addition, Thor ages more slowly than humans is incredibly strong, and can even fly. Without this character, it's hard to imagine the Avengers team!
Good luck super artists!
Time needed: 35 minutes.
How to Draw Thor for Kids
Draw the outline of the superhero's head.

We recommend drawing by hand to improve your skills, but for speed, convenience, and evenness, you can use a compass.

Draw the torso of God.

Now draw an oblong torso as you can see in the example. And also on the head draw the line of the helmet.

Draw the legs, mouth and hands of Thor.

In our version, the superhero is in a static state, so it is very easy to draw arms and legs. First, draw out the outlines of the fists, and after that draw the legs. Also, draw the top line of the beard and the first detail of the helmet.

Draw the details of the mouth, hands, boots and helmet;

Draw the character's mouth as well as his beard. After that sketch out the details of his helmet. Thor has a very interesting and beautiful costume, as he comes from the heavenly city of Asgard.

Add the contour of the eyes, fingers, hair and nose.

Draw parts of Thor's face, his eyes, eyebrows, nose, and so on following the example from step. Try to sketch this stage with maximum concentration, as the drawing has small details. After all the other details, draw Thor's fingers.

Draw the cloak and armor of Thor;

Draw Thor's cloak, as well as his armor, which protects his mighty body from enemies.

Coloring the drawing of Thor.

We use several colors: red, dark gray, light gray, beige, blue, and dark yellow. You can use your own coloring, but our version is classic.