How to Draw Popcorn for Kids
Learn how to draw popcorn for kids step by step with this elementary drawing tutorial for schoolers and preschoolers.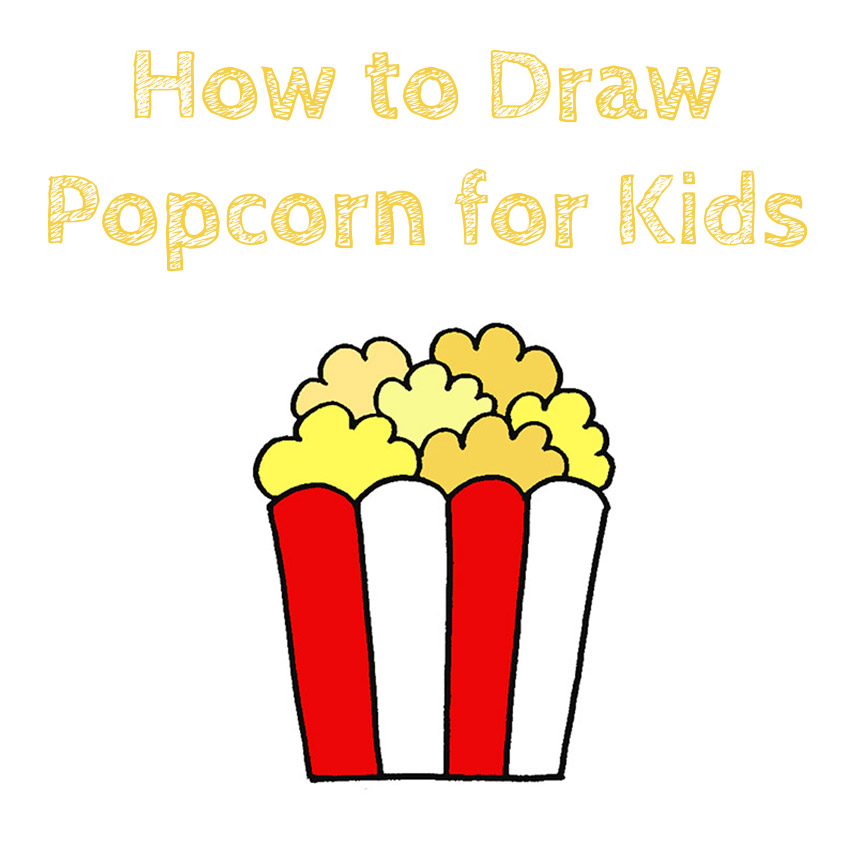 Hello and welcome to the lesson on how to draw popcorn for kids! This is a common food that is most often eaten in the cinema, on vacation, or in nature. Popcorn is made from corn kernels, which decompose at high temperatures to form popcorn. Someone loves sweet popcorn, someone salty, but everyone, without exception, loves it.
By the way, it can be cooked in an ordinary microwave, the main thing is to find out in advance how to do it correctly, so as not to arrange a real explosion of corn in the kitchen. To draw popcorn, you will need to follow the step-by-step instructions below.
Time needed: 20 minutes.
How to Draw Popcorn for Kids
Draw the packaging.

The pack has a square shape at the bottom and a wavy line at the top.


Detail the packaging.

Draw vertical lines. We will paint the resulting stripes in different colors, but a little later, when we move on to the last step.


Start drawing popcorn.

There is so much popcorn in the pack that it looks out from above, so you need to draw it in the form of small clouds.


More popcorn.

Draw some more popcorn in the same way.


And a little more.

There is very little left, so to make the package full of popcorn, draw a few more "clouds".


Color the drawing.

Popcorn itself comes in white, beige, and yellow. And the stripes that we talked about above are white and red.

We hope that this was a useful and informative lesson for you. Be sure to show your new drawing to friends and family. We also recommend that you familiarize yourself with other drawing lessons for kids.