Learn how to draw Chibi Spider-Man easy enough for beginners, start a sketch with this tutorial. Simple step-by-step tutorial to help you draw cute Spider-Man.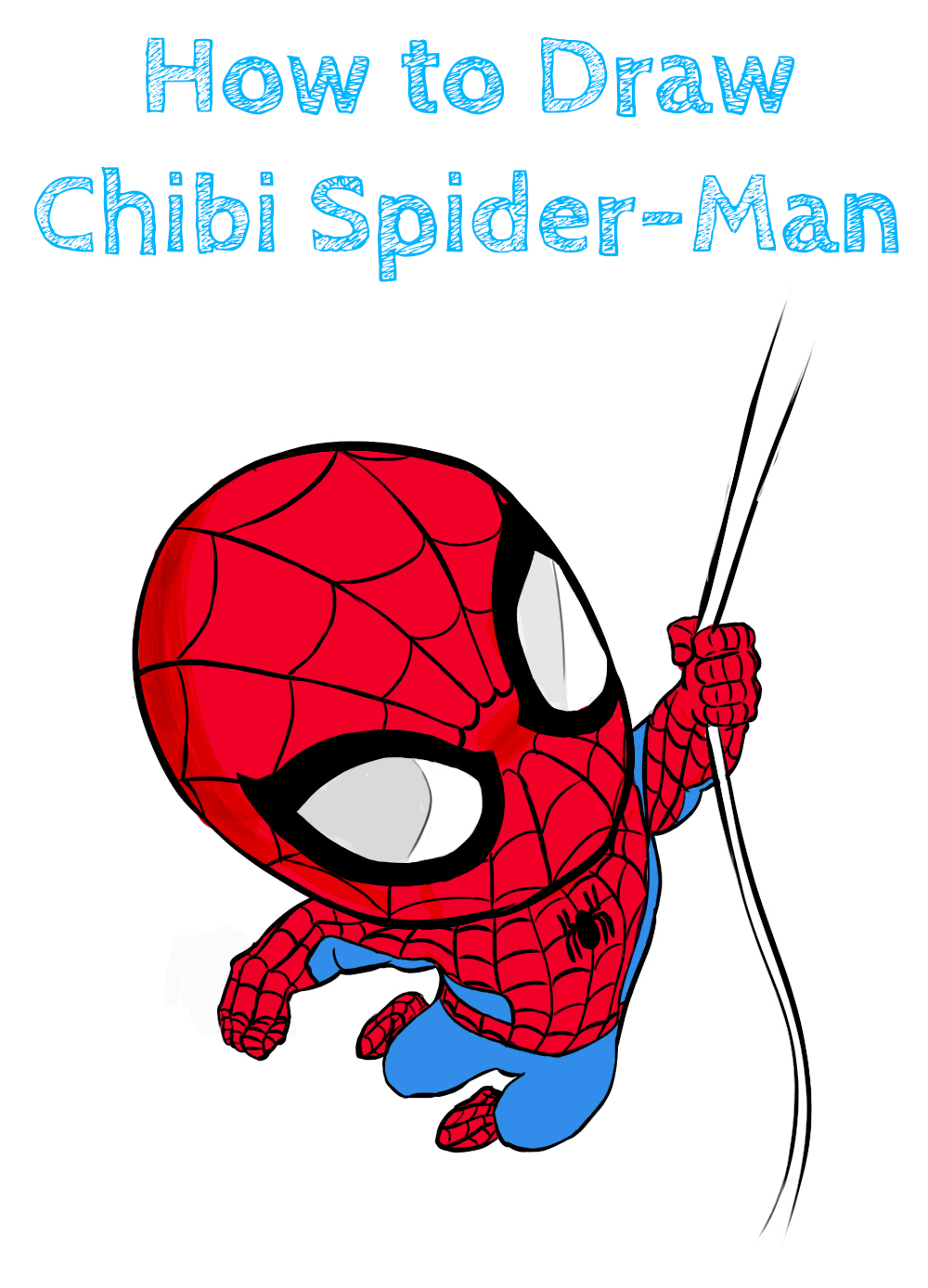 In this step-by-step drawing guide, you will learn how to draw Chibi Spider-Man, who flies on his web to save New York and the whole world from villains. On howtodraweasy.net, you can also watch a drawing lesson for the classic Spider-Man, which looks more realistic than this cute chibi character. This sketch is very easy to draw because the chibi characters are mostly made up of a large head and the rest of the body is easy to sketch. And do not forget that you do not need to sketch Spidey in a suit and face details, in general, everything is very simple for beginners or kids.
Time needed: 45 minutes.
How to Draw Chibi Spider-Man
Draw the shape of the head.

First you need to draw the basic shape of the head, keep in mind that the head is in a slightly tilted position.

Eye sketch.

Draw the shape of the classic Spider-Man eyes.

Second line of eyes.

Draw an inner line following the example from this step. You will paint the resulting area between these parts black towards the end of the sketch.

Draw a spider web on the mask.

Draw the lines of the cobweb that is traditionally depicted on Spider-Man's costume and mask.

Torso guiding lines.

If you have already drawn the head, now it is time to draw the body of the Spider-Man chibi. Draw three guidelines along which you will draw the torso.

The guiding lines of the hands.

Now draw the basic shape of the arms following the example from step. These guidelines will help you draw more precise and detailed body parts of Chibi Spider-Man.

Draw the first arm.

Draw the entire first arm, also drawing the spider web, on which Spider-Man moves around New York.

Draw the other hand.

Now draw the hand that is visually on the left.

Draw a suit.

Draw the upper part of the Spider-Man suit. Do not forget that the character's costume consists of two main parts, which are painted in red and blue.

Draw the legs.

After the torso, immediately draw the legs, which are bent at the knees for a more dynamic flight on the web.

Spider web on the suit.

Now draw a spider web all over the costume following the same principle as you drew it on the mask.

Tracing.

Take a marker or ink and trace all the lines of the contours of your pencil sketch. Do not forget to paint the areas around the eyes in the mask that are traditionally black.

Color Chibi Spider-Man.

Color the Chibi Spider-Man as if it were a coloring page. For this, use the classic red and blue colors associated with the Spidey suit.