How to Draw an Anime Girl
Learn how to draw an Anime Girl with this step by step drawing tutorial from howtodraweasy.net! Is this your first time holding a pencil? It will be easy even for you to draw this cute anime girl!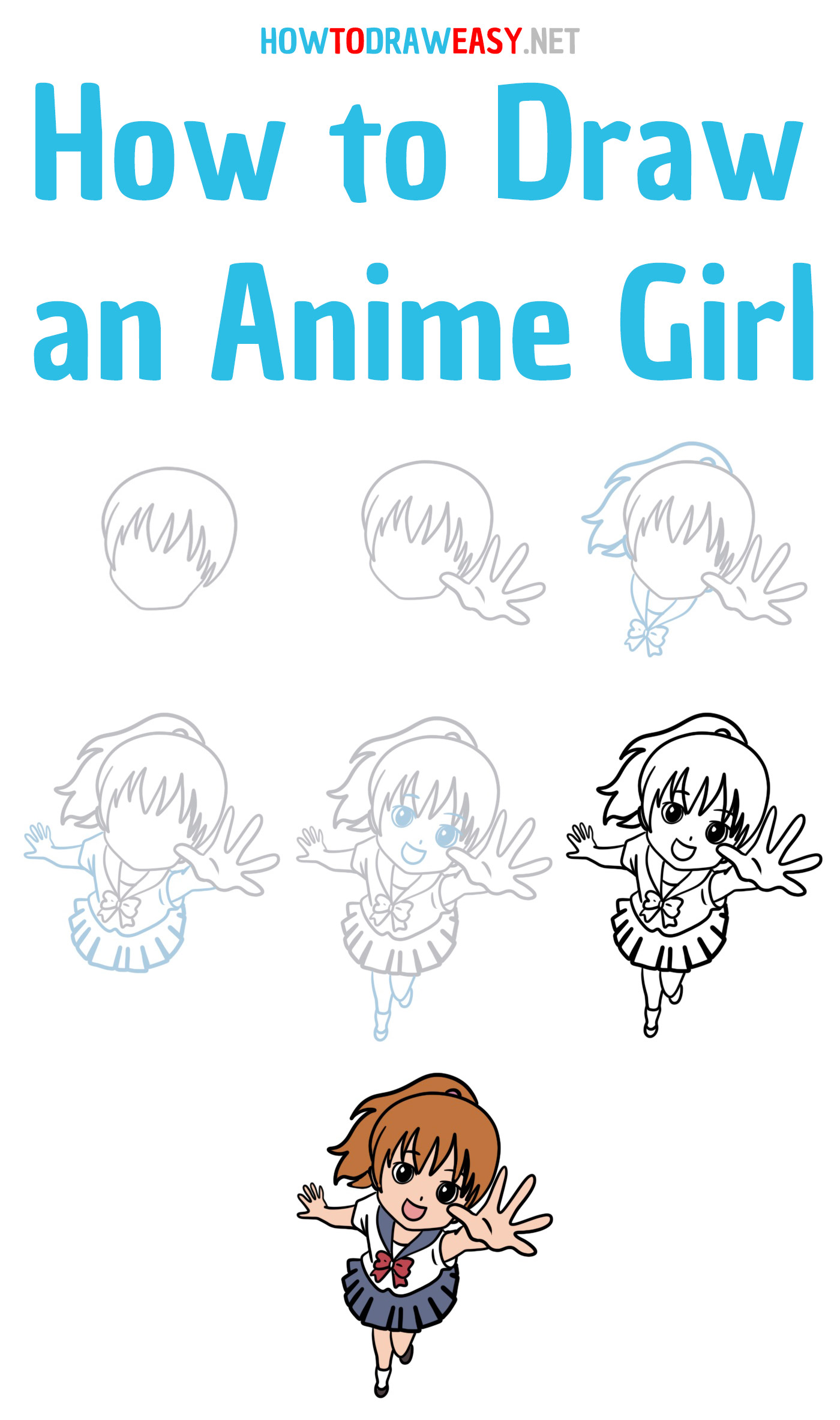 Konnichiwa, friends! You ask what the word is, and we will answer that it is a Japanese greeting! Because you are in the lesson about how to draw an anime girl. Introduce Japanese culture through food, manga comics, anime cartoons, and other popular genres from Japan.
Japanese anime cartoons literally fell in love with the whole world! We did not stand aside, because we also love this wonderful universe of cute cartoons and comics. In this tutorial, we have depicted for you a girl who cheerfully pulls her hand straight from the screen of your devices.
We made this step-by-step lesson very simple and straightforward so that all beginners, kids, and even preschoolers could draw it. By the way, if you need more step-by-step drawing lessons in a very easy style, then check out the category that was created especially for those who want to draw very easy drawings.
Art supplies for penciling and painting:
Pencil;
Black marker or a fountain pen;
Colored marker, crayon, or felt-tip pens;
Drawing paper (Or a drawing application on a device).
And an endless desire to drawing and color!
Time needed: 25 minutes.
How to Draw an Anime Girl
Draw the girl's hair.

Let's get started! First, you will need to draw the outline of the girl's hair, her bangs, and the oval of her face.

Draw the palm of the hand.

Move on to drawing an open palm. You need to draw five fingers of the girl. Although in cartoons they often draw fewer fingers than in real people, in this drawing we will still draw five fingers.

Draw long hair.

So, now draw the girl's hair, which is tied in a ponytail. Repeat as shown in our picture. Now draw a collar and a bow, which are on the girl's shirt.

Draw the body of the anime girl.

Move on to drawing the girl's torso, arm, and skirt. Start first by drawing the shirt, then the right hand, and after the hand draw the skirt. Follow this sequence and you will succeed!

Draw anime eyes.

Draw famous beautiful and cute anime eyes! Follow the example from step five. Have you painted? Now draw two legs of the girl. If you want, you can draw both legs the same way. The girl will turn out to be either standing on both legs or jumping. Choose yourself!

Erase the excess.

Did you sketch with a pencil on paper? This means you have a lot of extra lines and scuffs on the paper. Erase everything with an eraser and proceed to the next step.

Trace the pencil sketch.

If you drew on paper with a pencil, now you need to take a black marker or fountain pen and ink and circle the pencil drawing. This is done to make the drawing more expressive in appearance.

Color the cute drawing of the anime girl.

Take suitable colors and color your drawing. Did everything work out? Share with your friends via social networks using the panel that you will see by scrolling below. Thank you!