How to Draw a Watermelon for Kids
Learn how to draw a watermelon for kids step by step with this elementary drawing tutorial for schoolers and preschoolers.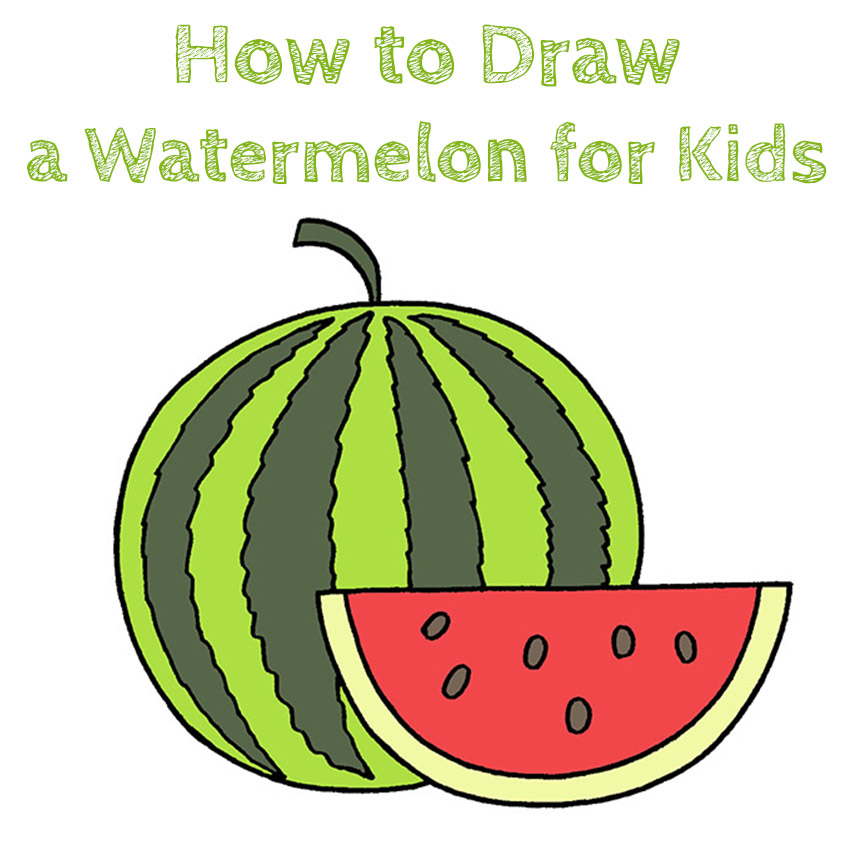 Hello boys and girls! In this lesson, we have prepared a drawing tutorial on how to draw a watermelon for kids step by step. We tried to make the berry drawing guide very simple and straightforward so that kids of all ages and skills can draw it.
Watermelon is one of the most favorite treats for children and adults. The striped fruit of impressive size with juicy and tasty pulp in the middle will delight all summer lovers. It attracts attention not only with its smell and taste but also with its color. These huge berries are not only green, but also yellow, and red, and even black. These berries are grown in countries with suitable warm climates, and there are just over 1200 varieties in total. So we learned a lot of useful and interesting facts about watermelons, so let's get down to drawing!
Time needed: 20 minutes.
How to Draw a Watermelon for Kids
Draw a slice.

Begin sketching with the basic outline of the watermelon wedge. It looks like a semicircle that is connected by a horizontal line at the top.


Draw the peel.

The juicy and ripe flesh of the watermelon is covered with a thick rind. Step back a little from the edge and draw another semicircle.


Draw the bones.

The least favorite thing about berries and fruits is bones. They come across every time and you have to spit them out. But almost all watermelons have them, so let's draw them on a wedge. They will look like small circles.


Draw the base of the watermelon.

Now you need to draw the watermelon itself. Draw the outline of the circle against the background of the piece.


Draw a ponytail.

Draw a ponytail on top of the watermelon circle. By the tail, you can identify and select a fresh watermelon. The greener the tail, the fresher and tastier the berry will be.


Draw stripes.

Draw stripes on the whole watermelon. Wavy lines will go from the top of the head, which will create the effect of a striped watermelon.


Color in the drawing.

Almost everything is already in place, now take the green and red pencils and start coloring.

Done! Figuring out how to draw a watermelon is as easy as shelling pears. Now that you have step-by-step instructions, you can draw easily and share with your friends on social networks. Check out our other instructions for kids as well and draw other things. We wish you every success!