How to Draw a Waterfall for Kids
Learn how to draw a waterfall for kids step by step with this elementary drawing tutorial for schoolers and preschoolers.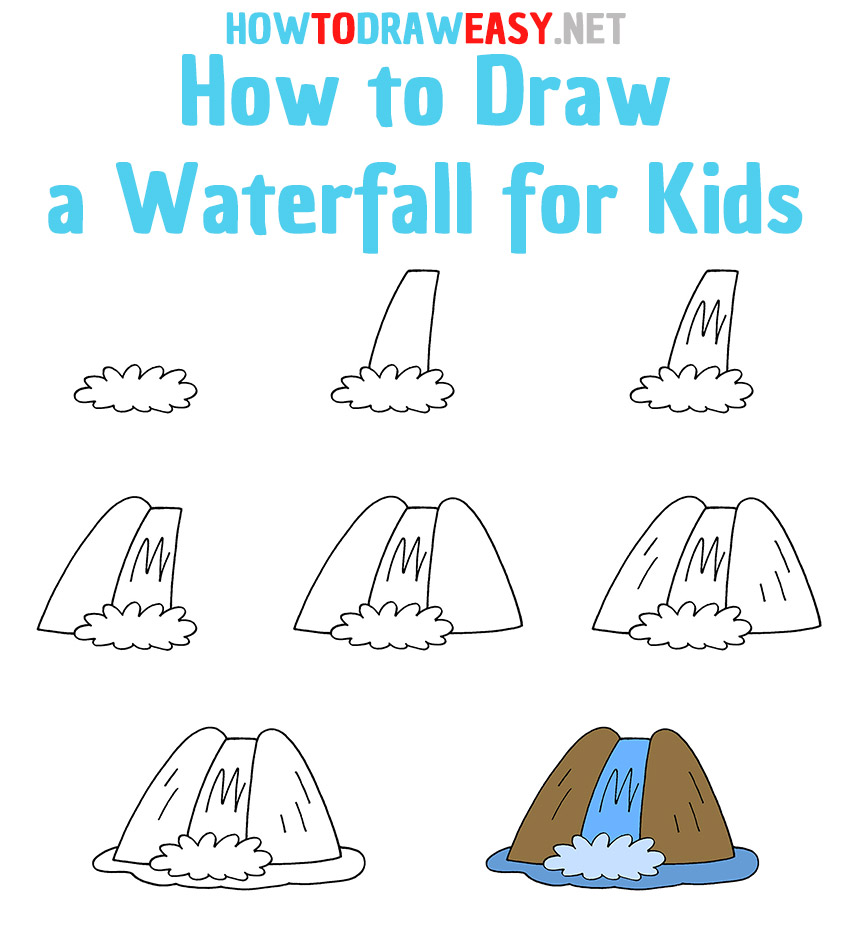 Hello everyone and welcome to the drawing lesson on how to draw a waterfall for kids. In this lesson, we will take a journey to a magnificent and mesmerizing creation of nature – a huge waterfall! The stream of a stormy river rushes down from a great height and, falling, turns into a whole cloud of splashes shining in the sun! And this process lasts endlessly, as if someone turned on an invisible engine, and forces the water element to move forward and forward all the time. If you haven't been to Angela and the famous Niagara yet, it's time to paint the waterfall of your dreams.
It is difficult to remain indifferent at the sight of the waterfall, its beauty and power are impressive and mesmerizing. Therefore, we propose to draw it so that it is always in front of your eyes. Drawing or looking at the flowing water is so enjoyable and relaxing. Let's start drawing a waterfall step by step!
Time needed: 30 minutes.
How to Draw a Waterfall for Kids
Let's start with splashing water.

Draw an elongated oval with a wavy outline that resembles a cloud.


Draw falling water.

Draw two vertical lines upward. They go from the "cloud" with a slight slope to the right. At the top, close the shape with a straight line.


Detail.

Draw some strokes on the water.


Draw part of the mountain.

In the next step, draw a semi-oval on the left. It adjoins one side of the waterfall.


Draw the second side of the mountain.

Draw the same semi-oval on the right. Please note that in the upper part, the hilly peaks are closed by smooth semicircular lines, the ends of which pass into the corners of the upper part of the waterfall.


Mountain details.

Draw some vertical strokes on the mountains. This is how you mark bumps and ridges on the mountains.


Add a pond at the foot.

At the bottom, draw a jagged line at the bottom. The edges of this line are closed behind the mountains in a semicircle. That is, in the waterfall image, you create a body of water that surrounds the hills.


Color the drawing.

Choose brown colors for mountains. And for the image of a waterfall, a stream, splashes, and lakes are suitable for different shades of blue: blue, blue, purple. If necessary, you can dream up and add additional elements to the picture. For example, paint the nearby grass and trees.

We hope that this was a useful and informative lesson for you. Be sure to show your new drawing to friends and family. We also recommend that you familiarize yourself with other drawing lessons for kids.