Learn how to draw a notebook step by step with this super easy drawing tutorial for kids and beginners.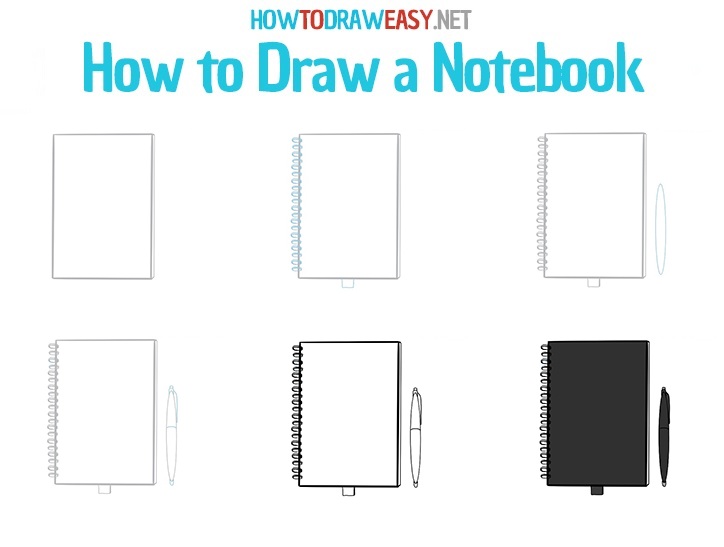 Hello boys and girls! As you may have guessed, our team has drawn a step-by-step tutorial on how to draw a notebook. This tutorial will be especially useful for novice artists and drawing enthusiasts.
Drawing a notebook is a fairly simple lesson for most artists, but there are steps in our lesson that need special attention. But do not be alarmed, because our formula consists of two things "easy" in and "step by step", then we are sure that even children will not have difficulties. Follow all our recommendations and you will succeed!
Now prepare a clean sheet, sharpened pencils and we will begin the lesson!
Time needed: 25 minutes.
Draw the border.

The most important thing in any drawing is to start. Draw a rectangular notebook border on a piece of paper (approximately 2/3 proportion).

Draw a spring.

The next step in drawing a notebook is to draw a spring. Draw elliptical springs.
Draw a bookmark in the middle of the bottom part of the notebook.

Let's draw a pen.

The main body of the drawing is almost complete. But what to write in a notebook? Of course, with a pen (pencil)!
As a bonus to our main tutorial, we'll show you how to draw a pen. First, you need to draw an elongated oval shape.

Detailing the pen.

We detail the drawing and add the elements of the pencil: button, clip, bottom of the case.

Circle the lines.

Trace all the lines and outline using a dark pencil and erase all unnecessary elements.

Color the drawing notebook.

We have come to the final part of the tutorial on how to draw a notebook. The last step is to color the resulting notebook and pen. We have chosen a calm solid color, but you can go without limitation and choose your own color.
The finish! If you have gone through all the steps, then you have succeeded and you are great! We hope you liked our lesson because we are working specifically on your emotions and positive feedback.
You can share our work with your friends on social networks and watch our other lessons. All the best!