How to Draw a Koala for Kids
Learn how to draw a koala for kids step by step with this elementary drawing tutorial for schoolers and preschoolers.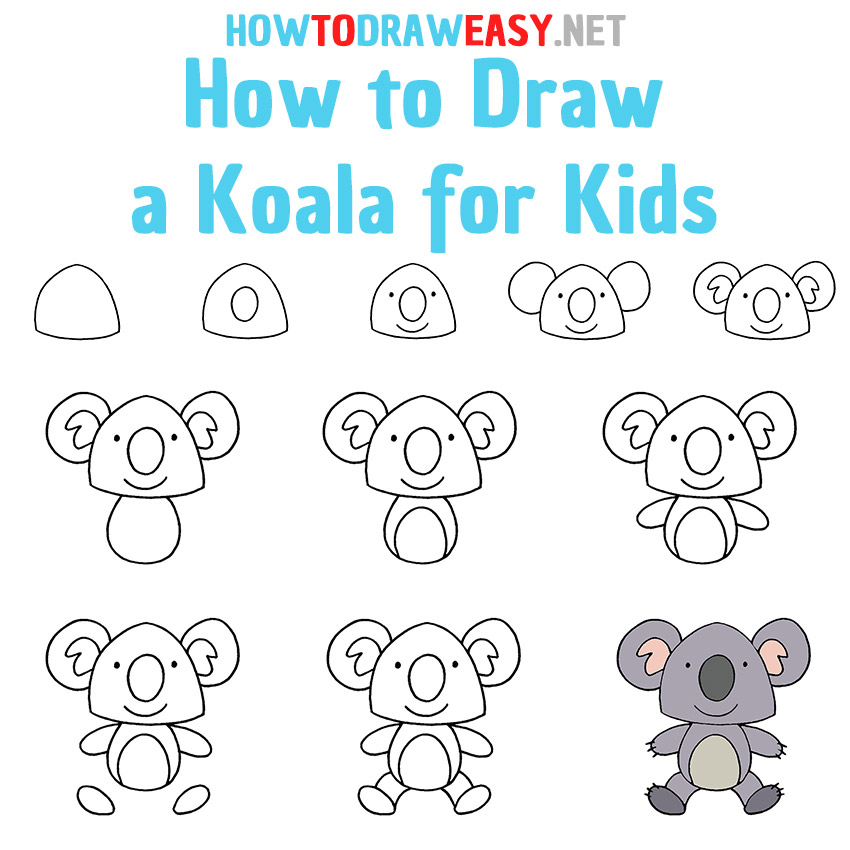 Hi guys! In this lesson, you will learn how to draw a koala for kids. Koala is a marsupial animal that is killed in Australia and feeds mainly on eucalyptus leaves. These cute gray furry animals are very easy to draw.
A drawing of a koala bear will be a good decoration for your collection of drawings. Anyone can draw a koala this way. Below is a step-by-step instruction that must be followed during the drawing process and you will definitely get a beautiful drawing.
Time needed: 30 minutes.
How to Draw a Koala for Kids
Draw the head.

Draw the upper part of the head in a large semicircle, and make the lower one almost flat.


Add a nose.

Draw a vertical oval in the middle of the drawn head.


Add eyes and mouth.

Next, you need to draw the eyes in the form of two points and a smile line under the nose.


Draw the ears.

Draw two large circles on the sides of the head.


Detail the ear.

Draw the inside of the ear as shown in the instructions.


Draw the body.

Draw the body of the koala in the shape of an oval under the head.


Draw a belly.

Next, you need to draw a spot on the belly.


Draw the arms.

On the sides of the torso, draw the arms in the form of small diagonal ovals pointing to the sides.


Start drawing the legs.

Departing slightly from the base of the body at the bottom, draw two slightly rotated ovals.


Finish drawing the legs.

Connect the bottom of the legs to the body of the koala.


Color the drawing.

The final stage. You need to color the drawing of the koala as shown in our example, or choose your own colors. Also don't forget to draw when on the arms and legs.

We hope that this was a useful and informative lesson for you. Be sure to show your new drawing to friends and family. We also recommend that you familiarize yourself with other drawing lessons for kids.