Learn how to draw a caterpillar for kids step by step with this elementary drawing tutorial for schoolers and preschoolers.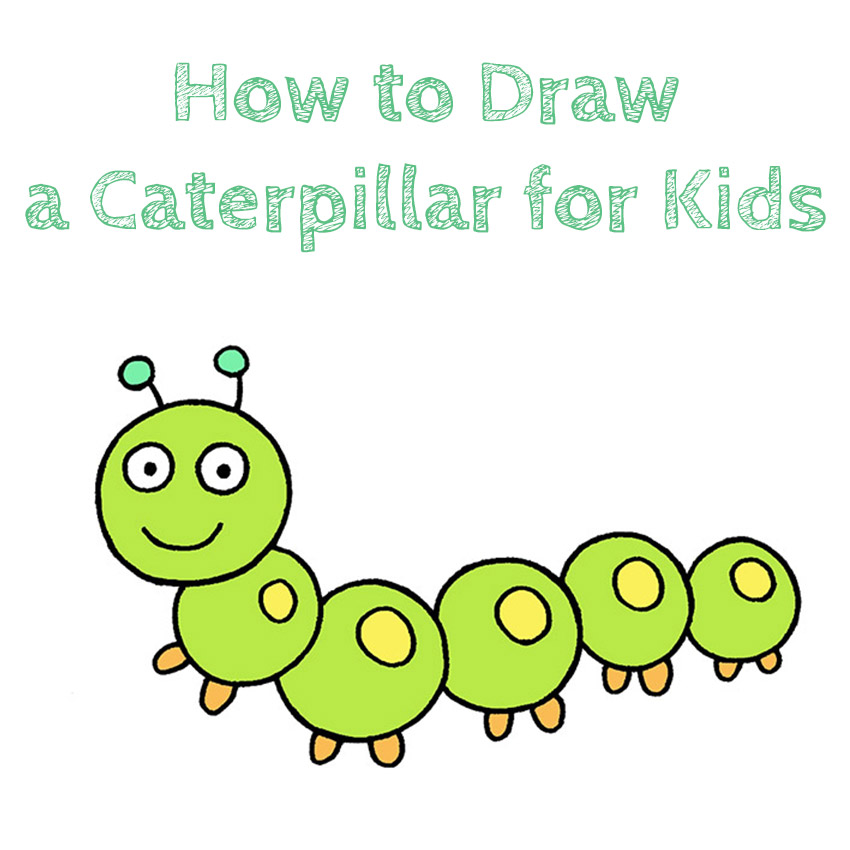 Hello everyone and welcome to the drawing guide on how to draw a caterpillar for kids step by step. This caterpillar elementary drawing instruction is perfect for aspiring artists of any skill as we have tried to keep drawing an insect simple. Most of the elements in the figure are straight lines and rounded. The main thing is not to rush and follow our recommendations in the drawing process.
A caterpillar is an insect whose body consists of a head, chest, and several parts of the abdomen. In shape, the insect is very similar to a worm. We have depicted the caterpillar in its usual form, so it will be very easy to draw an insect in just a few steps.
Time needed: 20 minutes.
How to Draw a Caterpillar for Kids
Head outline.

The first step is to draw the head of the insect in the shape of a small circle.


Draw the face.

Next, you need to draw the eyes in the form of two small circles with black pupils inside. Draw a half-circle smile under your eyes.


Draw antennas.

Draw two small vertical lines and draw small circles at the end.


Body sketching.

Similarly, draw a circle under the head as shown.

Draw the rest of the body.

Similarly, draw the rest of the body in the shape of 4 circles.


Draw the legs.

Next, you need to draw the legs of the caterpillar. Draw 2 small ovals under each circle as shown in our instructions.


Add details.

Add small circles all over the body.


Color the drawing.
Color the caterpillar green and the body parts lighter. Color the legs orange and the antennae dark green.
We hope that this was a useful and informative lesson for you. Be sure to show your new drawing to friends and family. We also recommend that you familiarize yourself with other drawing lessons for beginners.