How to Draw a Carrot for Kids
Learn how to draw a carrot for kids step by step with this elementary drawing tutorial for beginners, schoolers, and preschoolers.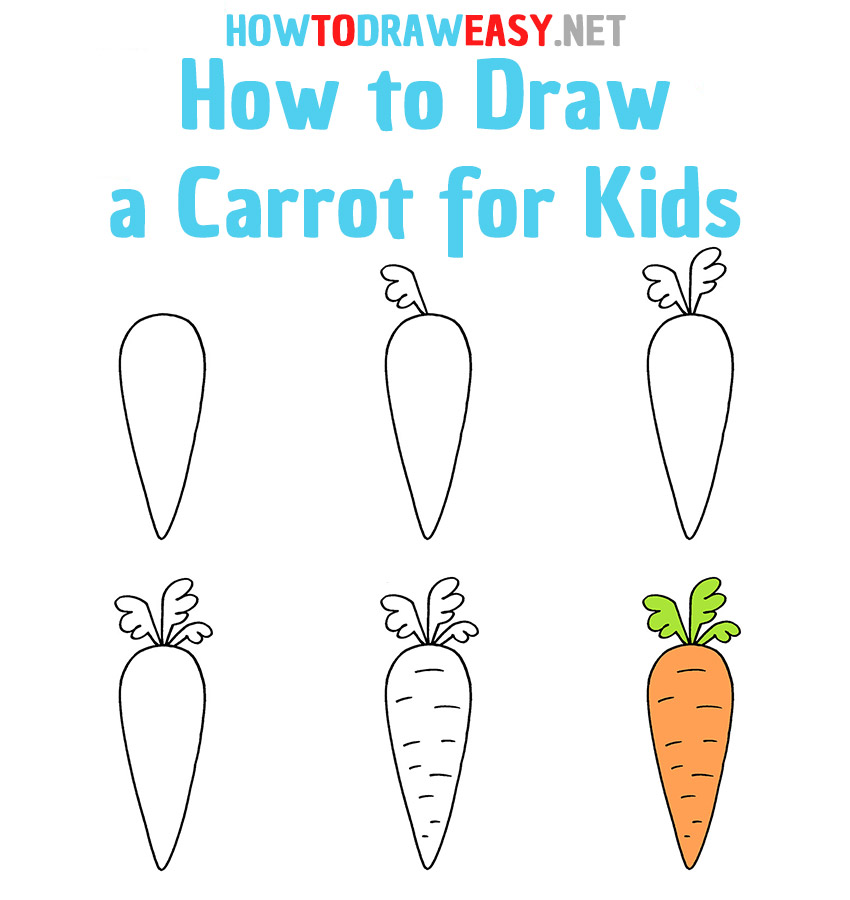 In this elementary drawing lesson, you will learn how to draw a carrot for kids. Carrots are a common vegetable that can be found almost everywhere around the world. Carrots are a very healthy vegetable that is good for the heart, intestines, and they also contain many vitamins that are good for vision and eyes. In addition, there are many substances in carrots that help people during colds. Therefore, we advise you to eat carrots more often, because this is a very healthy vegetable!
We have created simple step-by-step instructions for carrots in a classic form, so anyone can depict such artwork with any level of sketching. Enjoy the drawing process!
Time needed: 35 minutes.
How to Draw a Carrot for Kids
Carrot outline.

First, you need to sketch out the shape of the carrot, which is pointed at the bottom.

Carrot leaf.

Draw the stem and leaves of the carrot as shown.

Add the middle.

Now draw the middle carrot leaf following the example from step.

Add the last stem.

On the right side, depict the smallest leaf in the same way.

Add the texture of the carrot.

In the drawing of a carrot, use lines of different lengths to sketch out the texture of this vegetable.

Color the carrot.

Color the whole carrot orange. Color the leaves in light green. You can also trace the contours of the drawing with a marker or ink pen.
Done! The carrot is drawn. Congratulations and we hope it was an interesting and informative lesson. Share your artwork with your friends, and also try sketching this healthy vegetable with your friends!
Check out our other guides as well and see how to portray other things. We wish you success and will be glad to see you again on our website!