How to Draw a Candy for Kids
Learn how to draw a candy for kids step by step with this elementary drawing tutorial for schoolers and preschoolers.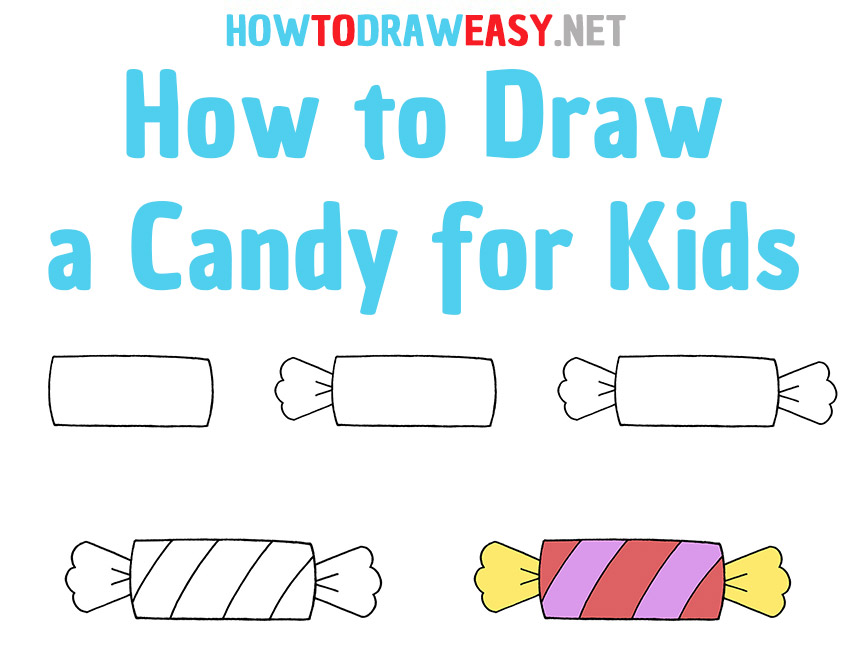 Hello kids! In this tutorial, we will show you how to draw a candy for kids step by step. Surely many of you love sweets, so the candy drawing tutorial is perfect for you. This tutorial will help you easily draw candy with a pencil. For this, the whole process is divided into only 5 stages.
Sweets are a fairly common delicacy that adults and children alike love very much. Such a sweet treat can have a variety of fillings, appearance, and attractive wrapping. Sweets can be chocolate, caramel, and many others. Each candy looks different.
We decided to choose the most popular option. The presented drawing guide will help you not to get confused and draw the candy beautifully, as well as very quickly. There is nothing complicated, it is enough to repeat the lines that are in the picture.
Time needed: 20 minutes.
How to Draw a Candy for Kids
Draw the shape of the candy.

Draw the shape as a long rectangle. The lines can be made a little convex.


Start drawing a candy wrapper.

On the left side, draw a piece of the candy wrapper. To begin with, draw two straight lines that are directed in different directions. Then connect them with a wavy line. Draw two small lines at the base.


Add the right end of the wrapper.

On the right side, draw part of the wrapper in exactly the same way.


We decorate the design on a wrapper.

The drawing on the wrapper is very easy to do. Draw several straight lines slanted to the side.


Color the drawing.

We decided to paint the candy in bright colors. You can use other colors and shades.

The drawing is ready! We hope that it was not difficult and that you enjoyed drawing based on our instructions. Be sure to show your new drawing to friends and family. We also recommend that you familiarize yourself with other drawing lessons for children. Bye-bye!