How to Draw a Bike for Kids
Learn how to draw a bike for kids step by step with this elementary drawing tutorial for beginners, schoolers, and preschoolers.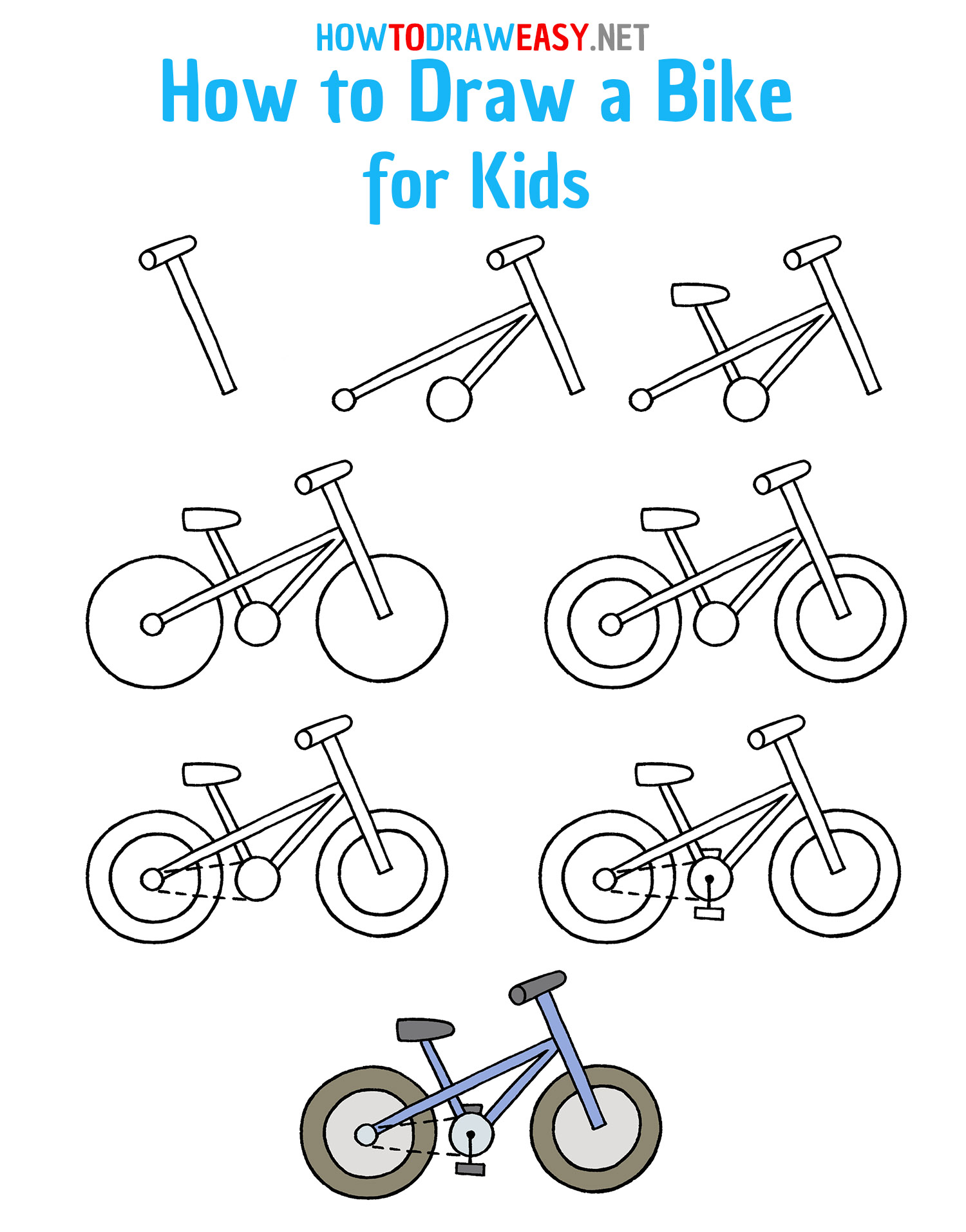 In this drawing lesson, you will learn how to draw a bike for kids. This vehicle is especially popular in European countries, and this is not surprising, because a bike is a small transport, which is easy to move along narrow European streets. And also unlike cars or buses, riding a bike is good for physical fitness. Riding the bike more often will strengthen your muscles and endurance.
The movement on it is made thanks to two pedals on each side, which are turned by a seated person. Bicycles are mostly two-wheeled, but there are also three-wheeled and four-wheeled.
The bicycle has quite a lot of different details that make drawing a bicycle difficult, but in our drawing lesson, you will quickly and easily sketch a bicycle, because we made the perfect step-by-step sketching guide. We tried to make our instructions for drawing a bicycle as simple and understandable as possible for beginners. You can draw a bicycle quickly and efficiently using the instructions below. Enjoy your drawing!
Time needed: 45 minutes.
How to Draw a Bike for Kids
Draw the handlebar of the bike.

First, you should depict the part of the bicycle on which the handlebars are located. Sletch two long lines and connect them with one at the bottom. Add two small horizontal lines on top as shown in the instructions. The sides of the bike handles should be rounded.

Draw a frame.

Start drawing the construction of the bike. From the handlebars frame of the bike, start drawing the middle frame of the bike, which holds the entire bike construction.

Draw the bike seat.

From the large circle you have drawn, draw two parallel lines. At the top base, draw a horizontal oval with different endings forms.

Draw two circles.

Draw two large circles parallel to each other. Try to portray them as shown in the instructions.

Draw inside circles.

Now sketch out the inner parts of the wheels, sketching out circles slightly smaller than the first circles.

Add the bike chain.

Draw dashed lines between two circles.

Draw the pedals.

Draw the pedals as shown in the example.

Color the bike.

The bike sketch is ready, and now just color your work with your favorite coloring tools. You can do this with markers, crayons, or paint.
The bike is drawn. We hope this was a useful and very interesting lesson for you, friends. Share your artwork with your friends, and try sketching a bike together and comparing your artworks.
We also suggest that you familiarize yourself with our other lessons and sketch many more other art compositions. We are always glad to see you!